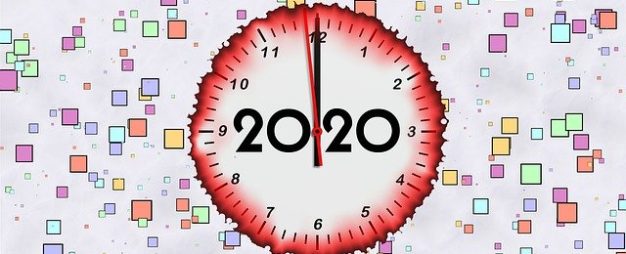 Digital Marketing 2020: Trends, Insights, and Goals
Unless you have 2020 vision, you probably can't see the future (that's the only 2020 pun, we promise). But don't worry, because with the help of statistics, trends, and insights from industry leaders, it's possible to make some educated guesses about what 2020 has in store for digital marketing. 
2019 was a huge year for digital marketing, and 2020 promises to be even bigger, better, and bolder. Between continued advancements in AI, sophisticated personalisation techniques, and even the rapid rise of Gen Z, 2020 promises to be an exciting year.

To help you get a head start on the year, we've put together this guide to digital marketing trends, insights, and goals for 2020. We take you through 2019 in review, as well as going in depth on data-driven insights about what leading marketers will be focussing on in 2020, plus predicted content marketing trends based on social media and Google search frequency.

Prepare for a great year!

2019 in Review: Email Marketing Magic
2019 was an excellent year for email marketing. Despite some initial reservations about the impact of GDPR laws, 56% of email marketers now say they feel positive about the effects of GDPR laws on email marketing[1].

This positivity is justified, as average delivery rates, open rates, click rates, and click-to-open rates all increased in 2019. According to Data & Marketing Association's 2019 Email Benchmarking Report, delivery rates increased 0.9% year-on-year, from an average of 97.3% in 2017 to an average of 98.2% in 2018[1]. Marketers are feeling the benefits of this increase, with 67% agreeing that reported delivery rates had increased, and 55% saying that spam complaints had decreased[1].

Other major email marketing metrics followed similar trajectories, as open rates increased 1% year-on-year from an average of 19.8% in 2017 to an average of 20.8% in 2018. 76% of marketers agreed that their open rates had increased in the last 12 months[1].

Click through rates also increased year-on-year, from an average of 2.13% in 2017 to an average of 2.41% in 2018, with three-quarters (75%) of marketers saying their click-through rates had improved[1].

Unsurprisingly, this meant that click to open rates also improved year-on-year, from an average of 10.9% in 2017 to an average of 11.6% in 2018[1].

These across the board increases show that email marketing remains in excellent health, and is well positioned to make further improvements in 2020.
Digital Marketing 2020 Wishlist
Following a successful 2019, digital marketers have big ambitions for 2020. According to a survey of 300 B2B marketers from "midsize or enterprise companies", 95% expect their digital marketing budgets to increase in 2020[2].

With more money comes more opportunities, and digital marketers are definitely planning to cash in. At the top of the 2020 digital marketing wishlist, 41% of B2B marketers say they are most likely to incorporate personalised content over any other feature or functionality[2].

While personalisation has been a significant trend for several years now, 2020 could be the year that it goes to another level. This is because 92% of B2B marketers believe personalised content leads to a better user experience and indicates that a brand cares about its customers' needs[2].

Following this, 32% of B2B marketers say their top priority for 2020 is improving the mobile experience. This should come as little surprise, given mobile now accounts for 53% of browsing traffic and generates 32% of revenue[3]. Optimising the mobile experience is therefore crucial, and will be a top priority for digital marketers in 2020.

The next highest priorities for surveyed B2B marketers were live chat (29%) and launching a native mobile app for their consumers or partners (27%)[2].

A survey of 250 B2B IT decision-makers returned similar results, showing these trends are pertinent business-wide. The only major difference was that IT professionals valued product recommendations (25%) over launching a native mobile app (19%)[2].

So, what does 2020 have in store for savvy digital marketers? Personalisation, mobile optimisation, live chat, and product recommendations. The future is now, don't get left behind!

Content Marketing Trends for 2020
In order to understand what customers really want, it can be helpful to analyse what they are searching for. Luckily, a comprehensive analysis of hashtags, search queries, and trending topics by SEMRush has done exactly that, uncovering several interesting content marketing trends.

First of all, the hashtags most commonly used with #ContentMarketing in 2019 were '#digitalmarketing' (71%), '#marketing' (52%), '#seo' (36%), and '#socialmedia' (35%)[4].

Additionally, the topics most commonly discussed with #ContentMarketing were 'strategy' (29%), 'social media' (11%), 'SEO' (10%), and 'statistics' (5%)[4].

These trends are further reinforced by the popularity of Google search terms, with 'content marketing strategy' (6,600 average monthly searches), 'content marketing institute' (5,400 average monthly searches), 'content marketing agency' (3,600 average monthly searches), and 'content marketing examples' (3,600 average monthly searches) coming out on top[4].

This provides a few interesting insights into the trajectory of content marketing in 2020.

Firstly, it is clear that digital marketing continues to rise, with the 'digital marketing' hashtag comfortably outperforming its offline marketing counterparts. If it wasn't already abundantly clear, the future of marketing is digital.

Further, strategy matters (which is probably exactly why you're reading this!). Strategy was comfortably the most discussed topic in conjunction with #ContentMarketing, nearly tripling the next best-performing topic. This makes sense, as 72% of content marketers said having a good strategy was key to their success[4].

SEO also continues to be an important consideration. While this should come as little surprise given 34.8% of all website traffic originates from organic searches[4], SEO and content marketing have occasionally been at odds in the past. It seems that 2020 may be the year that content marketing fully embraces the power of SEO.

SEMRush's survey also delves into the types of content marketing people that produce on Twitter, finding that 72% of marketing tweets contain links, while only 28% contain no links[4]. Further, 50% of marketing tweets include a static image, 14% include an infographic, 3% include a video, 1% include a GIF, and 32% include no visuals, but link to other information (i.e. a blog post)[4].

These results demonstrate clear trends as well as potential opportunities. While static images and infographics are comfortably the most popular forms of content marketing on Twitter, videos and GIFs are both underrepresented, which may present an opportunity for savvy content marketers.

Finally, in order to provide customers with value, it is important to understand their needs, desires, and queries. According to SEMRush's analysis, the three most asked questions about content marketing are 'what is content marketing?', 'what is content strategy?', and 'why is content marketing important?'[4].
It could be beneficial to address these questions in your content marketing strategy, to provide customers with additional value.

What the Experts are Predicting
You've seen the statistics, but what are the experts predicting? According to Litmus, the three biggest email marketing trends in 2020 will be Interactivity, Accessibility, and Personalisation & Dynamic Content. Litmus say these trends will "significantly impact how most email marketers approach their campaigns and strategies"[5].

Marketing Insider Group takes a similar approach, identifying Customer Experience, Employee Engagement, Visualisation, AI, Voice Search, Live Video, Position Zero, Personalisation, and Strategic Marketing Transformation as key marketing trends for 2020. They conclude, "content marketing will continue to dominate the digital marketing landscape in 2020…to have success in them, you'll need to have a solid base of quality content across all your marketing channels"[6].

Trend Watching have also weighed in, listing Green Pressure, Brand Avatars, Metamorphic Design, and Civil Media as their top trends for 2020[7].

Finally, Smart Insights identify Mobile Optimisation, Artificial Intelligence, Trust, and Data-Driven Marketing as important digital marketing trends for 2020. They also provide a reassurance that "as technological innovation continues to reshape email marketing…there's plenty you can do at every level of your strategy to improve results"[8].

Cumulatively, these expert predictions paint a picture of digital marketing in 2020: highly personalised, extremely interactive, accessible, and perhaps most importantly: fully mobile-optimised.

References
[1]https://learning.dotdigital.com/media/2969/dma-email-benchmarking-report-2019.pdf
[2]https://www.marketingprofs.com/articles/2019/42120/marketing-pros-2020-wish-list-top-digital-priorities-and-concerns
[3]https://www.smartinsights.com/digital-marketing-strategy/email-marketing-trends-2020/
[4]https://www.searchenginejournal.com/semrush-identifying-content-marketing-trends-2020/333183/
[5]https://www.marketingprofs.com/articles/2019/42110/the-future-of-email-embrace-these-three-hot-email-trends-to-stay-ahead-in-2020
[6]https://marketinginsidergroup.com/marketing-strategy/2020-marketing-trends-you-need-to-know/
[7]https://trendwatching.com/quarterly/2019-11/5-trends-2020/
[8]https://www.smartinsights.com/digital-marketing-strategy/email-marketing-trends-2020/