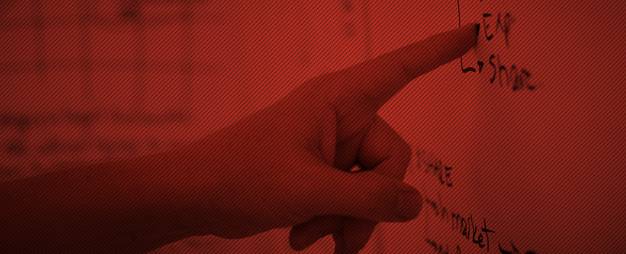 Data Today
The exponential rise in the volume and amount of data globally has been nothing short of phenomenal. So much so that currently and more prevalently in the future, being able to analyse large and complex data sets will become a major point of differences and competition for all brands that will see new waves of productivity, innovation and consumer surplus, according to MGI and McKinsey's Business Technology Office.
To put it into perspective, Google's Eric Schmidt recently stated that the the amount of information being generated every 2 days is now as much as the total amount of data that existed in 2003. Here are a couple of examples to get your head around:
Walmart handles more than 1 million customer transactions an hour.
340 million tweets are sent per day. That's nearly 4,000 tweets per second.
Facebook has more than 901 million active users generating social interaction data.
RFID (radio frequency ID) systems generate up to 1,000 times the data of conventional bar code systems.
10,000 payment card transactions are made every second around the world.
More than 5 billion people are calling, texting, tweeting and browsing websites on mobile phones.
This surge can be attributed to a number of key reasons: the increased cost efficiency in storing and processing data, the increased use of the Internet from all walks of life in developed and developing nations, access from multiple devices, along with increased media usage and highly affordable bandwidth and connectivity.
And the effects of this?
So how does this is affect our everyday lives you ask? Check out this awesome video below to get a better understanding of how we face 'information overload' each and every day.
It has also brought upon a skills shortage. To capture the full economic potential of big data, companies along with the education sector, Governments and policy makers will all have to try and address a highly alarming predicted talent gap.
Research by McKinsey Global Institute (MGI) Projects that by 2018 the United States alone may face a 50–60% gap between supply and demand for deep analytic talent, essentially people with advanced training in statistics or machine learning.
So what exactly is Big Data?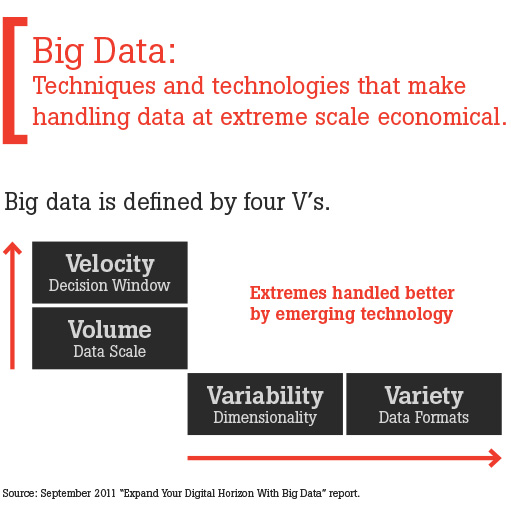 Velocity – Sometimes 2 minutes is too late. For time-sensitive processes such as catching fraud, big data must be used as it streams into your enterprise in order to maximize its value.
Volume – Enterprises are awash with ever-growing data of all types, easily amassing terabytes—even petabytes—of information.
Variability – Variability exists in the data being analyzed and it can have a profound effect on the believability of the business decisions being made.
Variety – Big data is any type of data – structured and unstructured data such as text, sensor data, audio, video, click streams, log files and more.
What Does Big Data Mean for Marketers?
95% of all data with an organisation is still untapped
Marketing is the biggest user of big data technologies
Big data technologies allow for more sophisticated segmentation
Produce more personalised results
One of the challenges of Big Data is assessing what information is really worthwhile to marketers. The emarketer survey found that the greatest percentage of respondents, 71%, were interested in adding predictive analytics around the lifetime value of customers to their customer data profile—figuring out who would be their best customer going forward, and perhaps even how best to target that customer.
Over half of respondents cited a more general interest in developing a more fleshed-out online customer profile and an ability to put that profile to work.
The Opportunity
The capacity to create more meaningful and relevant experiences, and the ability to deliver personalised offers will greatly shift the compass for many brands to move from a product marketing centric view to the ultimate digital nirvana of a single view of their customers. Brands that are able to quickly understand and utilise a customers' previous or current behaviour along with their profile history, transactional history and other data sources will help them present the right message, to the right customers, at the right time and in the right medium.
Being able to do this as close to real time as possible will be the ultimate challenge, offering high rewards for dynamic and progressive brands that can effectively achieve it. This will take a huge investment in strategy, staff, skills, technologies, and processes and must be considered as a whole of business approach for the best success.
That's great, but how/where do I start?
The opportunity is definitely there to manage big data effectively and profitably, and a great starting point is identifying the answers to these key focus areas:
Capture – what data is to be kept.
Storage – where the data is to be held.
Curation – how data is tagged or described for use, analysing and searching (e.g. Meta Data)
Search – how data can and should be queried.
Sharing – how data can be accessed and used.
Transfer – the transformation, integration and transfer of multiple data sources.
Analysis – both machine and human analysis of the data.
Technology – the technology used to manage the data.
People / Skills and Knowledge – resources and skills to plan, manage, use and act on data.
Policies / Security / Access – who can access the data and rules around its' usage.
IP / Liability – the Intellectual property ownership for data.  Especially important when using 3rd party technologies as part of the solution.
At XCOM we've worked long and hard to harness and understand Big Data because we're excited about the opportunity it presents. We've also developed a number of best practice principles that we're happy to share as well, keep an eye on this blog as we'll soon be releasing our Big Data whitepaper, and we encourage everyone to download a copy.
If you have any questions or would like to discuss Big Data in more depth, feel free to contact us.