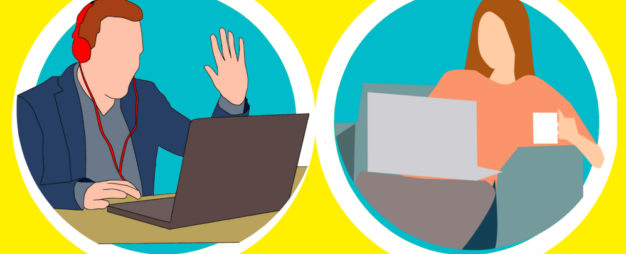 Video Call Etiquette: 3 Do's and Don'ts
With so many people working remotely at the moment, video calls have become the new conference room, lunch room, and water cooler, all rolled into one. Whether it's a daily team meeting or a virtual catch up just to stay social, many of us have spent a lot of time on video calls recently. So much so that, according to Google Trends, search interest for the term 'video call' has more than tripled worldwide over the past month. 

This sudden spike in video calls has led to its own unique challenges. Be honest, how much time have you spent thinking about whether your work from home 'uniform' is video call appropriate? Or whether people will be able to see your messy laundry in the background? Or just trying to figure out how to un-mute yourself?

So, to help us all adjust to the new reality of daily video calls, I've put together this quick video call etiquette guide, covering all the do's and don'ts of video calls. 

Do
#1. Test your Equipment Beforehand
Previously, the first few minutes of a meeting were often spent exchanging small talk, maybe finishing off a coffee, and waiting for everyone to take their seats. Now, this has been replaced by a new ritual. Stop me if you've heard these ones before: 'Can you hear me?' or 'Is x on the call?'

This is why it's important to test your equipment beforehand, to ensure everything is running smoothly. This means checking your video and microphone are both working, your internet connection is stable (fingers crossed!) and that you're familiar with the video call platform. It's an easy mistake to make, thinking your call is happening over Slack, waiting for a few minutes for everyone else to join, only to discover it's taking place on Zoom. Or Skype. Or Join.me. 

The bottom line? Check your equipment beforehand, to make sure the call goes ahead without a hitch!

#2. Be Prepared 
While video meetings are a little different than regular meetings in many ways, the same basic rules still apply. Right near the top of this list is the golden rule: be prepared. 

That means knowing when the meeting is scheduled to start, testing your equipment beforehand (tick), and preparing any files or other information you may need to share.

It's hard to miss a meeting when you're in the office. You see everyone else walking towards the meeting room and follow the flock, assuming there must be something going on. With all the distractions of remote working (I'll get to that), it can be easier to lose track of time and miss the start of a video call. If this becomes a recurring problem, it might pay to set a reminder alarm a few minutes before the call is due to take place.
Above all else, be prepared!

#3. Pick an Appropriate Background
It's an age old question: what does your video call background say about you? The Sydney Morning Herald have already written an article about it, in fact. Okay, maybe not age old, but it's something I'm sure many of us have been thinking about over the past few weeks. 

As the SMH notes, "the perils of filming a live video from home have been a meme ever since Professor Robert Kelly's hilarious Skype disaster in 2017, when his children and frantic wife invaded his bedroom studio during a BBC interview and became a viral sensation."

I'm sure most of us are eager to avoid this fate. So, what does your video call background say about you? Are you sitting in front of a bland, white wall? Can you see your kitchen in the background? Is your house looking extra clean for the occasion, or did you not bother to tidy up? Are you pretending your video isn't working today, just so people won't see what's really going on? 

While there's no right answer, there probably are a few wrong ones. But, as long as you get out of bed and avoid anything too embarrassing going on in the background, rest assured your colleagues probably aren't paying particularly close attention to the background.
Or, that's what I'm telling myself, anyway!

Don't 
#1. Forget About the Mute Button
Remember that tip about testing your equipment earlier? Well, this is one of the most important parts. While background noise is an inevitable part of life, and especially working from home, it's in everyone's best interests to use the mute button on a video call when you're not talking. 

Have you sat through a meeting recently, distracted, trying to figure out what that odd background noise is, and whose microphone it's coming from? Naturally, these noises are often unavoidable, but no one really wants to hear your dishwasher running, or your fan humming, or your neighbours doing whatever they're doing, if it can be avoided. 

Most importantly, don't forget to unmute yourself when it is your turn to speak!

#2. Get Distracted
It happens to the best of us. One minute, you're listening intently to your call, the next minute, your eyes start to wander to something offscreen, be it your notebook (guilty), other projects you're working on, or maybe just your phone. Because it's all happening offscreen, you assume no one can see you. Unfortunately, a few minutes later, the conversation circles back to you, and you're completely lost. 

Wherever possible, it's crucial to minimise distractions while working from home. This is also easier said than done, of course. After all, your phone's right there, and who's going to see you?

The distraction might not even be intentional. It might be a weird noise coming from outside, or just your mind wandering to that washing you have to fold later. This is why it's crucial to set up a dedicated, quiet workspace, and minimise distractions wherever possible. 

I know it's tempting, but the last thing you want is to spend half a meeting distracted, and the other half lost, trying desperately to catch up before it's your turn to talk! 

#3. Show up in Your PJs
It might sound obvious, but it's worth reiterating: people can see you on a video call, so it's a good idea to look presentable. There's not much worse than being caught off guard by an impromptu video call, and scrambling to quickly change into some work appropriate attire.

While this doesn't mean wearing a full suit and tie every day, getting changed into 'proper' work clothes (whatever that means for your job), can have a huge impact on your mindset and productivity. Doing so can help people flick that mental switch from 'home mode' to 'work mode'.

It's definitely hard to resist wearing those cozy new PJs and showing them off to the rest of your team, but trust us, it's for the best! 
Image by: mohamed Hassan from Pixabay