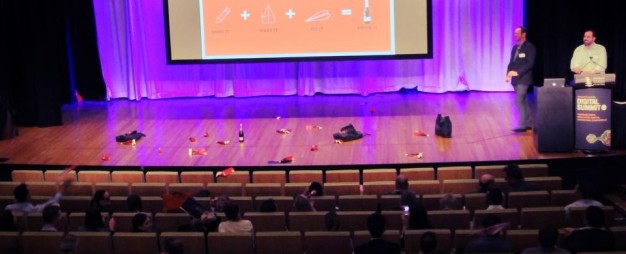 What a superb turn out for yesterday's first Digital Summit event by Interactive Minds at the Brisbane Convention and Exhibition Centre.
The whole day was full of great speakers, highly varied and interesting content, some very truthful pain points were shared and many key themes were touched on amongst most of the presentations from different perspectives but with much alignment – Content, Data, Mobile, Multiscreen, Security, Convenience, Social Media and Audience Engagement.
You can download our presentation here
And don't forget our now infamous XCOM Paper Plane. If you want to have a go, download the instructions here
Massive congratulations to the Interactive Minds team, Louisa Dahl, Nadine Zrinzo, Lisa Renneisen for putting on one of the best events we have been to in Brisbane.
Enormous giggly shout outs to Rob Hudson who did a fine job as Chairman for the day, adding insights and humour in equal measure.
Well done to all the presenters for doing such a great job and also to everyone that came along for such vibrant energy, passion, conversation and connection.
Thankyou to the Interactive Minds team for having us involved, and an even bigger thanks for letting us run with the paper planes analogue ending – we send our apologies to the cleaners.
Already looking forward to next year!
A quick summary in tweets
@urbanbrenden Pick the things you're good at and outsource the rest! #IMDS2013
"What customers want to know and what businesses want to say are NOT the same thing." Spot on @Emma6516. #IMDS2013 #ContentMarketing
@s13_eisbaer 7 Trends in Social Media 1. Rich image content 2. Real time monitoring & engagement 3. Personalise 4. Integrated Data… ..5. Leverage off influencers 6. Closing the loop 7. Creating a social organisation #imds2013
‏@sutho #imds2013 @noahkagan from @appsumo go to http://appsumo.com/iloveaustralia for a copy of the files
@catmatson Create community into which you can softly market or sell or communicate or provide content … @jessdoubleya #IMDS2013
@IMBrisbane Nice graph showing loyalty for apps by category from @michaelweeding #IMDS2013 pic.twitter.com/5liYvdEluf
‏@nathbush Great point by @michaelweeding: the credit card is a hugely efficient piece of technology. He do you make that simpler on mobile? #imds2013
@IMBrisbane Second factor authentication: Something you have and something you know. A privacy protection measure we should know about. #IMDS2013
‏
@_robhudson @sutho fantastic presso. Thanks for the honesty #imds2013
‏@Visual_Alchemy Phone jamming in showroom apparently not bad service in Australia 🙂 no more price comparisons in store! BOOM! #showrooming #IMDS2013
‏
@JonaPeck Big data is like high school sex. Everyone's doing it. Not many people are doing it. Almost no one is doing it well. @sutho #imds2013
‏@s13_eisbaer Great adobe buzzwords ad http://www.youtube.com/watch?v=gjsT-z16vR0 … #imds2013
@IMBrisbane Nice graph showing loyalty for apps by category from @michaelweeding #IMDS2013 pic.twitter.com/5liYvdEluf
‏@sutho #imds2013 not that there is much on it. But here is my Prezi. http://bit.ly/15xd2rc
‏@s13_eisbaer Google has some great market research and stats for all types of industries at http://www.google.com/think/ #imds2013
‏@MelJCoppola Device usage is driven by context; time, location, goals, attitude #imds2013
‏@IMBrisbane 48% research products on a mobile but only 8% convert. It's a leaky bucket & processes need to be modified to improve it #IMDS2013
‏@IMBrisbane How much will customers give away in order to get through airports quickly? Facial recognition? Scanners? #IMDS2013
‏
@bcmpartnership – Jeff Dermann of @Yahoo7 at #IMDS2013 details how device agnostic we are (& when) with this slide. pic.twitter.com/MtrXNc81Yr
‏@MarkDavieski – Liking this perspective on travel and booking online in 2013: it's broken! #imds2013
‏@IMBrisbane – People will give up their data for experience. Experiences will be more tailored based on history & preferences @darren_sutton #IMDS2013
@alluxia – Travel of the future will involve more time to dream & less time to book @darren_sutton #IMDS2013
@LisaMa_ What a fun ending to the day, @xcommedia getting the audience to throw paper planes! #imds2013 pic.twitter.com/Je8PANtAS2