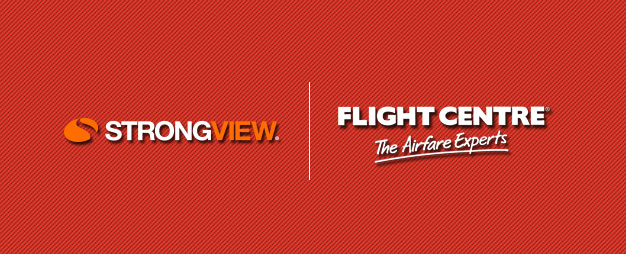 StrongView Enables Australasia's Largest Travel Company to Improve Relevancy, Performance and Deliverability of Its Marketing and Transactional Email
REDWOOD CITY, CA–(Marketwire – April 12, 2010) –  StrongView Systems, Inc., a leading provider of online marketing solutions for email and social media, today announced that Flight Centre Limited, Australasia's best-known travel agency group, selected and implemented StrongMail marketing and transactional email solutions, resulting in significantly improved performance of its campaigns.
Working with StrongMail regional partner XCOM Media, Flight Centre Ltd. switched to StrongView from an email service provider (ESP). Australasia's largest retailer of travel products and services, Flight Centre Limited operates more than 2,000 shops and businesses in 11 countries. Flight Centre relies on email to keep its customers informed of localized products and services based on their travel preferences; however, its previous solution wasn't able to scale with its growth or provide the level of data integration and visibility it needed to optimize its email marketing campaigns.
By migrating to StrongView, Flight Centre has lowered its email marketing costs while significantly boosting its campaign results. Not only has Flight Centre improved the relevancy of its offers by leveraging StrongView's advanced data integration and dynamic content capabilities, it has increased inbox delivery with StrongView's advanced sending technology and smart bounce management. StrongView's intuitive web-based interface also makes it easy for Flight Centre to send targeted communications and then view the results in real-time to optimize the results.
"Succeeding in the ultra-competitive travel industry comes down to how you serve your customers, and StrongView has enabled us to improve the customer experience with timely emails that deliver highly relevant and targeted messages," said Sally Chapman, direct marketing manager at Flight Centre Limited. "With StrongView, we have overcome the limitations of our previous outsourced solution across all the key metrics: cost, campaign performance and reliability."
"Flight Centre Limited's success in increasing the performance of its email marketing campaigns is a great example of the benefits of investing in the right technology and strategy," said Bill Wagner, executive vice president of business operations at StrongView. "StrongView's dedicated email solutions provide companies like Flight Centre Ltd. with unparalleled connectivity to customer data, which is the cornerstone of effective one-to-one communications."
About Flight Centre Limited 
Flight Centre Limited is Australasia's best known travel agency group and boasts more than 2000 shops and businesses in 11 countries. The company, through its retail and corporate brands, provides a complete travel service for leisure and business travelers in Australasia, New Zealand, the United States, Canada, the United Kingdom, South Africa, Hong Kong, India, China, Singapore and Dubai. In addition, the company's corporate travel management network, FCm Travel Solutions, extends to more than 40 other countries through strategic licensing agreements with independent local operators. The company's brands include, Escape Travel, Student Flights, quickbeds.com and Travel Associates.
About StrongView Systems, Inc. 
StrongView's online marketing solutions for email and social media enable businesses to reach, engage and influence their target audience using the most powerful channels available to marketers today. StrongMail gives email marketers the control and support they need to improve campaign performance, boost deliverability and lower costs, while also leveraging the power of social media to extend the reach of their campaigns and brand to new audiences. Combining an easy-to-use email marketing application, high-performance delivery system, viral-marketing tool, social media integration, and a wide range of deliverability, strategic and supporting services, StrongMail makes it possible for companies with all levels of resources and expertise to take advantage of its proven solutions. Headquartered in Redwood City, CA, StrongView's clients include global leaders across virtually every industry.
To learn more about StrongView, please visit www.strongview.com or follow us online atwww.twitter.com/StrongView or www.facebook.com/StrongViewInc.
XCOM Media is StrongMail's exclusive partner in the Asia Pacific region. For more information, visit www.xcommedia.com.au or follow on twitter atwww.twitter.com/xcommedia.