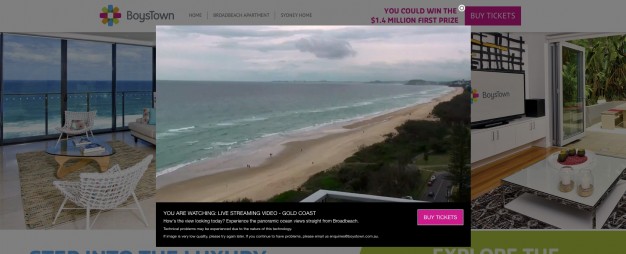 XCOM have recently produced a microsite for yourtown, to promote their latest Prize Homes Draw.
This responsive site featured a live video stream from a 'balcony cam' at the Gold Coast apartment.

This latest yourtown Prize Homes draw offered the choice of two luxury properties; a chic inner Sydney home or a Gold Coast apartment. As it's not always practical for their supporters to visit the prize homes yourtown installed a 'balcony cam', so you could enjoy the magnificent view from the 15th Floor apartment.
XCOM's site featured video streaming during daylight camera operating hours and switched over to a fallback (pre-recorded) video when the camera was offline.
The responsive site showcased the two properties and let you explore a variety of video tours and a photo gallery.